A Clickable Dickens Family Tree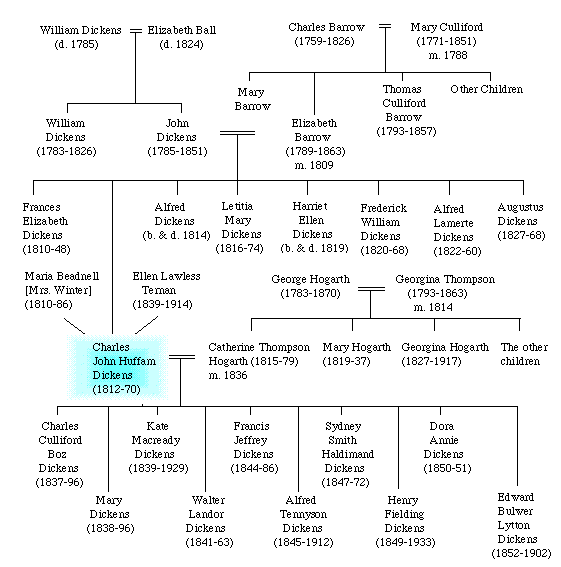 Created by Mitsuharu Matsuoka.
CHARLES DICKENS, the most popular novelist of the century, and one of the greatest humourists that England has produced, was born at Landport in Portsea on Friday, the seventh of February, 1812.
His father, John Dickens, a clerk in the navy-pay office, was at this time stationed in the Portsmouth dockyard. He had made acquaintance with the lady, Elizabeth Barrow, who became afterwards his wife, through her elder brother, Thomas Barrow, also engaged on the establishment at Somerset-house; and she bore him in all a family of eight children, of whom two died in infancy. The eldest, Fanny (born 1810), was followed by Charles (entered in the baptismal register of Portsea as Charles John Huffham, though on the very rare occasions when he subscribed that name he wrote Huffam) ; by another son, named Alfred, who died in childhood; by Letitia (born 1816); by another daughter, Harriet, who died also in childhood; by Frederick (born 1820); by Alfred Lamert (born 1822); and by Augustus (born 1827); of all of whom only the second daughter now survives.
(John Forster, The Life of Charles Dickens)
© The Dickens Fellowship: Japan Branch
All rights reserved.